Shopping Cart Alerts Can Save Sales
I live in Utah, which has a desert climate.  This summer there have been a number of wildfires near my home due to an ongoing drought.  On dry, windy days, the weather app on my phone will display an alert for any fire dangers in my area.  It is quite useful to receive warnings about potential problems.
ShopSite Pro also has the ability to send and display alerts.  Beginning with v11 sp2 you can receive alerts regarding shipping (e.g. USPS, UPS, FedEx), payments (PayPal, Google, Amazon, Authorize.Net, etc.), or taxes (AvaTax).
Instead of relying on a shopper to report a potential problem with a 3rd party service, you can immediately be notified of an issue.  The most serious issues are those that prevent an order from going through.  Typically, on a previously functioning system this occurs when a merchant changes their password on the 3rd party service without updating the configuration in the shopping cart.  Receiving a timely alert regarding the problem allows the merchant to quickly address the issue before other shoppers encounter the problem.
ShopSite can optionally send an email notification, and will track and display alerts in the Merchant Alerts module of the dashboard, as illustrated below.

Clicking on the alert link for detailed information displays the following: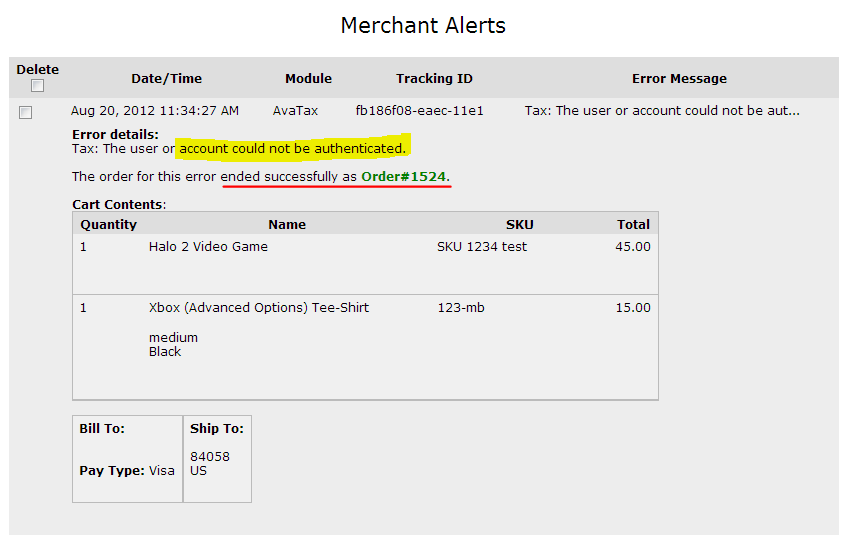 I've highlighted in yellow the error message, which indicates that the account for AvaTax could not be authenticated with AvaTax's servers.  After correcting the AvaTax account information, the shopping session that was having problems went through, as indicated by the section underlined in red.
To configure alerts in ShopSite Pro go to Commerce Setup and then to Alerts.  From the Configure button you'll have the following options: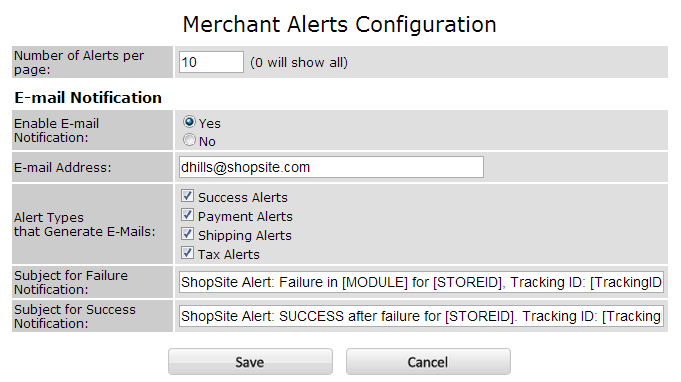 When viewing the list of alerts, you can indicate: how many alerts to display on a page, whether or not you want to be emailed about alerts, and which specific alerts you want to receive (e.g. Shipping, Payment, etc.)  You can even customize the e-mail alert subject line.
Most stores that are set up correctly will function without any problem.  But, when a change occurs that causes checkout problems (metaphorical fires, as it were), it is essential to know of the issues as fast as possible – it can help save sales that would otherwise have been abandoned.