Why Use Facebook Connect?
Users with Facebook accounts can use Facebook Connect on many sites as an alternative to the site's normal sign-in method.  In the case of ShopSite Pro v11, shoppers can use Facebook Connect to create their Customer Registration account and sign in to Customer Registration instead of ShopSite's default Customer Registration sign-up and sign-in processes.
Some of the benefits to using Facebook Connect include:
No need to remember yet another login name and password.
If already signed into Facebook, one click signs the shopper into ShopSite.
With over 750 million users and many sites already supporting Facebook Connect, it is a feature that many shoppers will be comfortable using.
Let's review how the process works.  From ShopSite's registration page a shopper would have the option to use the default ShopSite method or Facebook Connect: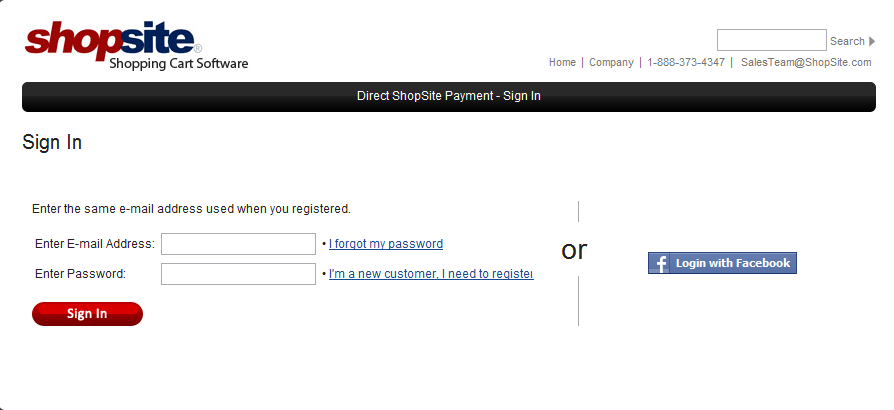 After clicking the Login with Facebook button, those newly registering (and those using Facebook Connect with the store for the first time) are prompted by Facebook to allow the site to access their basic Facebook information: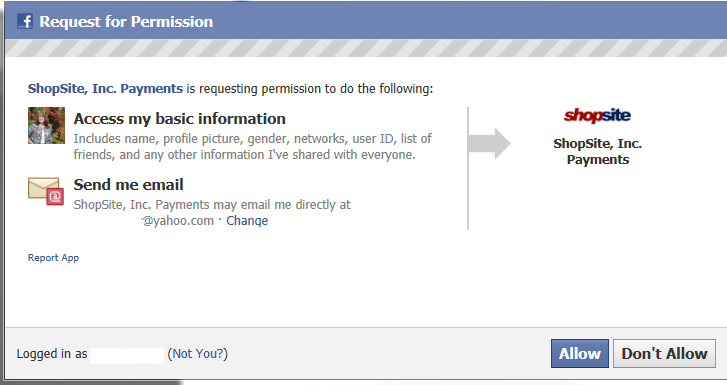 The shopper's Facebook photo, name and e-mail are displayed.  Also, the name of the store that the merchant registered with Facebook would be displayed instead of "ShopSite, Inc. Payments."  Again, the above screen is only displayed once, the very first time a shopper registers.  Once the customer has registered, when they click to Login with Facebook on future visits to the store, they are immediately taken to their account information screen in Customer Registration, just as if they had signed in through ShopSite's default method: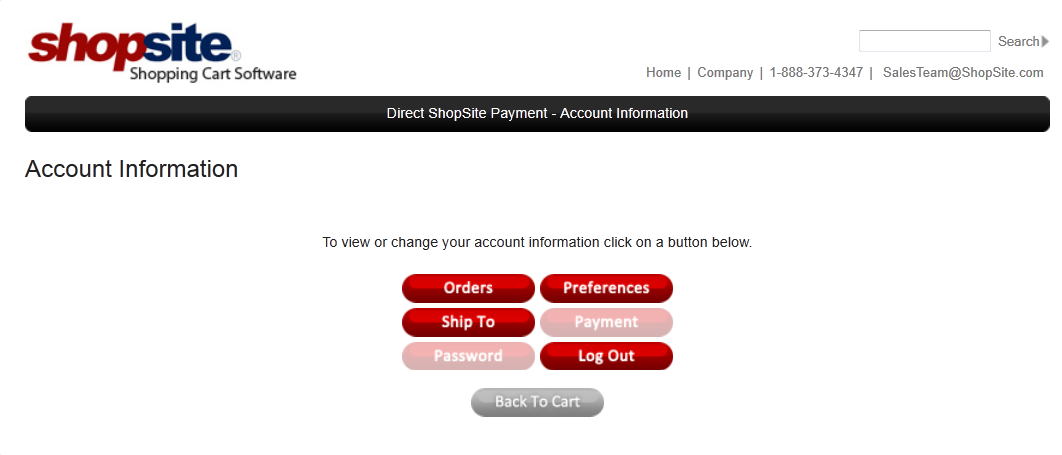 You'll note in the above screen that two buttons are inactive (faded out) – Password and Payment.  The Password button would normally allow a shopper to change their registered password, but since this function is now controlled by Facebook, they cannot change their Facebook password from within ShopSite.
The Payment button would allow a shopper to modify payment settings for their credit card.  To meet PCI requirements and to ensure that if someone got a hold of a shopper's Facebook password that they could not check out as the shopper, payment information is not saved for customers using Facebook Connect.  A shopper using Facebook Connect will still need to enter their credit card information or sign in to their PayPal account when they check out.
So, is it useful to use Facebook connect?  According to Facebook, sites that use Facebook Connect as an alternate to account registration have seen a 30-200% increase in registration on their sites.  In another testament to the power of Facebook, and Connect in particular, the CEO of JibJab has said:
"It took us 8 years to reach 1.5 million registered users in the era of email. It took us only 5 months to acquire the same number of users on Facebook. Even more noteworthy might be the facts that we did it all via Facebook Connect."
While your site may not see the high percentage numbers touted by Facebook, it certainly makes sense to offer it if you currently allow customer registration.  If some of your shoppers love Facebook, like many of my "friends" do, then using Facebook to sign in is probably what they'd want to do.  As a merchant, you want to make the checkout process as easy and convenient as possible, and it would be hard to get easier than a one-click login for your shoppers!