Configure Google Analytics in ShopSite
Last time, I covered why ShopSite made the switch to use Google Analytics for Traffic Reports.  This time, I'll cover setting up Google Analytics within ShopSite.  First, go to Merchandising Tools > Google Services > Google Analytics, where you'll see the following: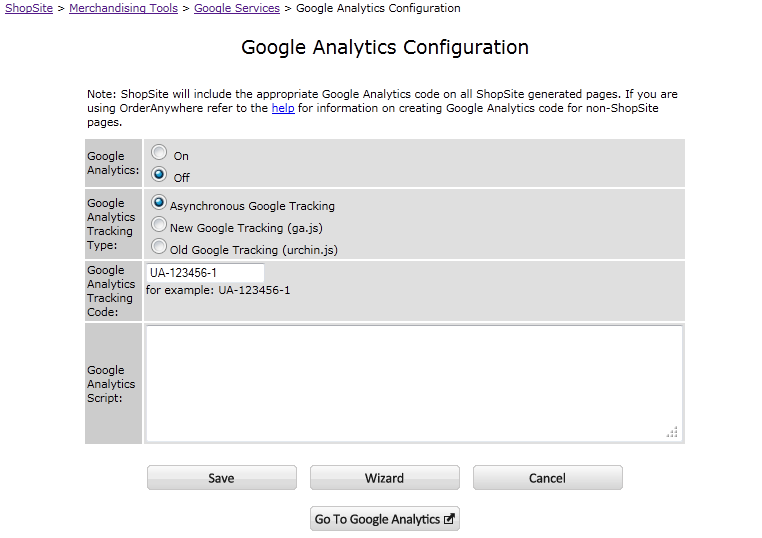 If you don't have a Google Analytics account, click the "Wizard" button to start the configuration wizard and ShopSite will walk you through the steps.  Alternatively, you can watch this video tutorial.
Once you have your Google Analytics account, you can find your tracking code on your Website Profile page.  The account tracking code looks something like UA-123456-1.  Returning to ShopSite's Google Analytics page, select the radio button to enable Google Analytics, select "Asynchronous Google Tracking," paste your account tracking code in the "Google Analytics Tracking Code" field, and then save the configuration.  Publish your store to add the code to all of your ShopSite generated pages, including the shopping cart pages, and that's it!
Google Analytics was originally a product from a company called Urchin, hence the original tracking type "old Google Tracking (urchin.js)."  While we've included it there for legacy support, you shouldn't ever need to choose that setting.  The same is true for the "New Google Tracking (ga.js)".  "New" is a bit of a misnomer, as it has already been replaced by the "Asynchronous Google Tracking" type.  If you select "New Google Tracking," the entire web page with the tracking JavaScript code must load before the page is displayed to the user.  This is why designers would put the Google Tracking code as the very last thing on a web page.  The Asynchronous Tracking code solves this problem by allowing the web page to be displayed while the JavaScript code is loaded in the background.
If you have web pages that are generated outside of ShopSite, you will need to manually place the appropriate JavaScript code on each page.  You can get this code from the Google Analytics site or ShopSite can generate it for you and display it in the "Google Analytics Script" box.
Google Analytics integration is available in Pro and Manager service levels of ShopSite.  Starter merchants will need to get the code directly from Google and manually place it in their store pages and in the header or footer of their Shopping Cart pages.