Free Shipping Using ShopSite
Last time I covered the use of Free Shipping for increasing your profit and/or obtaining more customers (see Free Shipping – Is It Worth The Cost?)  This time I want to review how you can set up free shipping using ShopSite.
Free Shipping is available in ShopSite Manager and ShopSite Pro.  To access this feature, from the "Commerce Setup" menu, click on the "Shipping" button.  Near the bottom of the Shipping screen you'll see the following:

From this section, select the minimum amount that a shopper must spend in order to qualify for free shipping.  You will need to decide whether to use the Product Total (the combined product cost before coupons or volume discounts are calculated) or the Subtotal (after discounts, but before tax and handling charges are applied) in determining if the Minimum Amount is reached.  You can also customize the Shipping Option Name to indicate the required minimum amount needed for free shipping, as well as the "Free Shipping Message that ShopSite displays as an alert, indicating that free shipping has been earned.
The next section indicates any restrictions that will be placed on a customer's location when calculating free shipping.

In the example above, free shipping will only be allowed within the continental United States. ShopSite automatically fills in the zip codes necessary to exclude Hawaii or Alaska by default.
As a shopper, I will see a screen similar to the following when I have $50 worth of products added to my cart.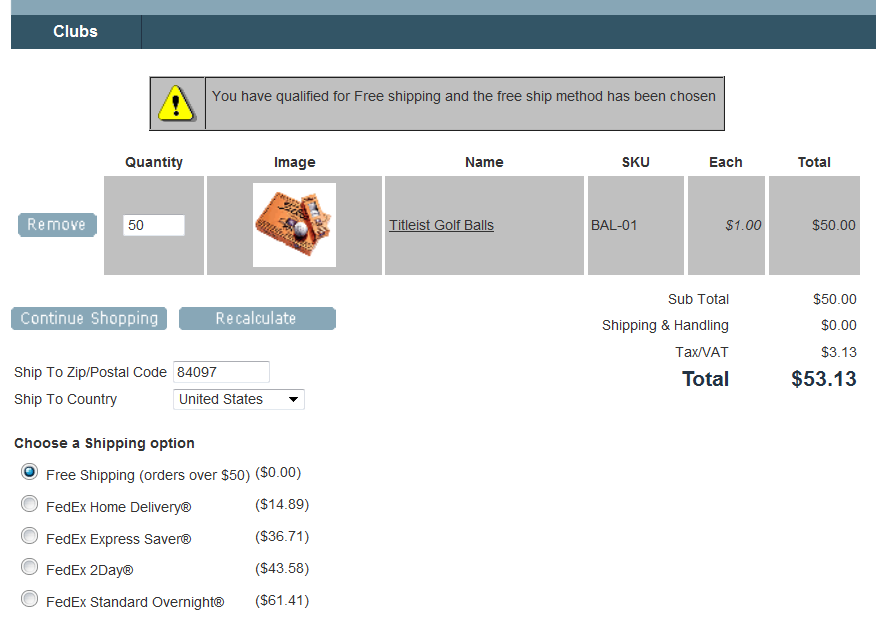 As you can see, there is an alert message notifying me that I've qualified for free shipping on my order.  Also, note that the Free Shipping option has already been selected for me.  If I want to pay more and receive my products quicker, I can still select a paid shipping option for 2-day or overnight delivery.
You might ask, "But what method is used to ship the products for free?"  Well, that's the beauty of it.  You, as the merchant, determine which method is the least expensive to ship and use that method for your free shipping orders.  Depending on your circumstances, the best method for you may be "ground", or it could be some other option.  You can indicate to the customer the method that will be used by including it in the Free Shipping Name, the Alert, or wherever you display your shipping options.  You can also just indicate a typical delivery time frame and then, depending on the products purchased, you select the best shipping method for your bottom line!
Next time we'll cover Free Shipping Coupons in ShopSite.