Holidays are Happy Times for Merchants
Well, I saw Lon Chaney walking with the Queen,
Doing the Werewolves of London.
I saw Lon Chaney, Jr. walking with the Queen,
Doing the Werewolves of London.
I saw a werewolf drinking a pina colada at Trader Vic's,
And his hair was perfect.
Ahhwooooo… Werewolves of London, Huh! Draw blood!
Ahhwooooo… Werewolves of London..
From Werewolves of London – Warren Zevon
Halloween is upon us.  It is the second biggest holiday for retail sales (after Christmas) and this year will see even more spent on the holiday! As a merchant, you have hopefully already promoted any products that have a Halloween tie-in.  Whether those products include scary books, videos, music, decorations, food, cards, or costumes (of course!), they should be taking center stage.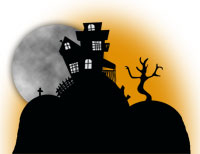 Having a holiday-specific product page or category or daily special on your site is a must.  It allows shoppers to quickly find what they are looking for as well as encounter other items that they may not have considered yet.  This week, both of my daughters were searching our iTunes library (as well as a number of music sites) for Halloween-themed music.  I was surprised to discover that, when I went to Amazon's MP3 Download site, there was not a link to suggest Halloween- or scary-themed songs.  Maybe everyone already has a copy of Michael Jackson's Thriller or Warren Zevon's Werewolves of London but there are other songs that this generation may not know about, like Donovan's Season of the Witch, are also pretty cool.  Wait, I just realized that his song is now used in the latest Windows Phone 7 commercial, so I guess they'll recognize it, but not know who originally did it!
Obviously, holiday-specific promotions apply to all holidays, especially to the upcoming Christmas holiday.  But they can also apply to big events.  For example, don't put all of your Halloween stuff away right after Halloween.  Some of it may be in great demand when the next Harry Potter movie comes out November 19th.  Right now, with the World Series going on, baseball-theme items could also be hot, especially if you have San Francisco Giants or Texas Rangers specific items!
If you can, always tie products to the holidays.  In addition, look beyond the holidays to significant events.  There are many possibilities out there.